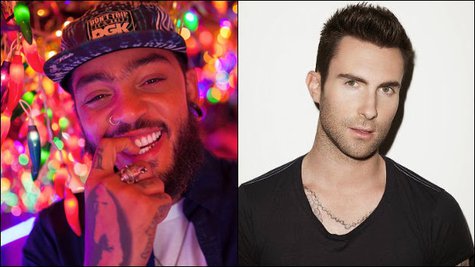 Ever since Adam Levine was named People's Sexiest Man Alive, there's been plenty of discussion as to whether or not he really deserves the title. Someone who was pretty surprised by Adam's honor was Travie McCoy , who along with his band Gym Class Heroes collaborated with Adam on the hit single "Stereo Hearts." In fact, Travie says he couldn't believe it when he saw Adam's face staring out at him from the rack at his local grocery store.
"They have a magazine section as you're leaving and I'm walking by and I look back, and I'm like, 'Are you serious?'" he tells ABC News Radio of his reaction to the "Sexiest Man Alive" cover story. "Like... Channing Tatum was the last one, [right]? That kinda makes sense, you know what I'm saying? Not to say that Adam's not a good-looking guy, but I'd have to disagree."
Turns out Travie's apparent diss is just sour grapes though -- he laughs, "It shoulda been me on the cover of that!"
Right now, Travie's more concerned with his music than his appearance, though. His single and video with Jason Mraz , " Rough Waters, " is out now, and his second solo disc will arrive in 2014. Travie says ironically, "Rough Waters" was a song that he'd almost forgotten about, until his producer resurrected it and had Jason sing on it.
"It was written for an ex-girlfriend and it kinda got put on a backburner," Travie tells ABC News Radio. "And Benny Blanco , who produced the song, was working with Jason Mraz and he's like, 'Yeah, I got this song that I do with Trav awhile ago, would you mind putting some guitars on it?' So he played guitar on it and actually re-sang the hook and then he sent it to me."
"I was like, 'Whoa!'" Travie recalls. "Like, he just brought it to a whole 'nother level and we decided to run with it as a single."
Travie also reveals that hearing the song prompted him to reach out to his ex -- it was while they were having difficulties in their relationship that he originally penned the tune.
"Upon re-listening to it, it shot me back to when I wrote it," he says. "And actually, I called up my ex-girlfriend and e-mailed it to her and she loved it."
And no, the two aren't getting back together, but they're still friends, according to Travie.
Copyright 2013 ABC News Radio