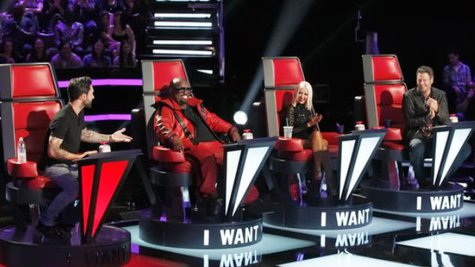 Matthew Schuler , an artist on Christina Aguilera 's team, was eliminated from NBC's The Voice on Tuesday night.
Matthew had fallen into the bottom two with Team Adam Levine 's James Wolpert , who was "saved" by fans on Twitter.
NBC had advertised that two artists would be sent home on Tuesday night, but only Matthew got the boot.
James is one of five contestants who advanced to next week's semifinals. The others are Team Christina's Jacquie Lee ; Team Blake Shelton 's Cole Vosbury ; and Team Adam's Will Champlin and Tessanne Chin . Cee Lo Green does not have any artists remaining in the competition.
There were several performances throughout the one-hour results show. The newly-married and pregnant Kelly Clarkson sang "Underneath the Tree," from her new holiday album, Wrapped in Red.
When host Carson Daly asked her how she's feeling, Kelly answered, "I've felt better, I'm looking forward to second trimester."
Kelly returns to NBC on December 11 with her new special, Kelly Clarkson's Cautionary Christmas Music Tale.
The top six brought more cheer with a holiday medley, while Blake sang "Silver Bells" alongside season-one contestant Xenia .
In addition, Jacquie, Matthew and Tessanne collaborated on a rendition of Florence + the Machine 's "You've Got the Love," and Cole, James and Will joined Extreme rocker Nuno Bettencourt for a performance of the band's 1991 hit "More Than Words."
The semifinals begin next Monday night on NBC at 8 p.m. Eastern time.
Copyright 2013 ABC News Radio