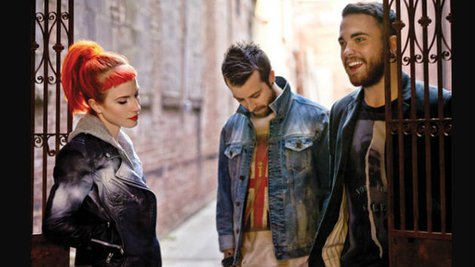 Paramore will be wrapping up their North American Self-Titled tour this month, but bassist Jeremy Davis won't be on stage with the group for the final dates. Frontwoman Hayley Williams and guitarist Taylor York revealed in a blog post on their website that Davis will be dropping out of the remainder of the December gigs so he can support his wife during the birth of their first child.
"Jeremy and his wife, Kathryn , are getting ready to have their baby girl," writes the band. "We're weeks away now. So he won't be with us at these Christmas shows but now he can go ahead and be with his family in England and he and Kat can bring their little one into the world!"
Williams and York add they've recruited former Beck / Nine Inch Nails bassist Justin Meldal-Johnsen , who produced their recently released self-titled album, as a replacement for Davis.
The duo also reveals that the next single from that album will be "Ain't It Fun," and they'll be releasing a video for the track sometime soon. "We just shot the video yesterday in our hometown and now we're just waiting for all the editing, revisions and approvals to start," they explain. "No official release date for the single has been set and as usual, the video release will follow suit."
Copyright 2013 ABC News Radio