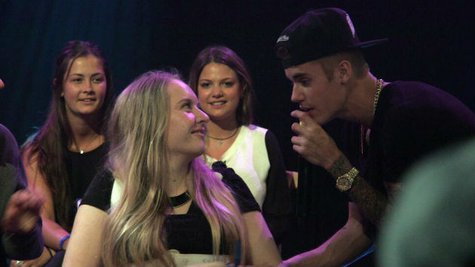 All of the headlines about Justin Bieber 's Australian tour lately have focused on his alleged bad behavior, like tagging a hotel wall with graffiti, showing up late for concerts and not keeping his entourage from mistreating people. But here's something that proves that the singer is truly a good person at heart: he gave a seriously injured fan in Melbourne a private concert.
According to the Australian Herald Sun , the lucky teen was Katie O'Neill , a Justin Bieber fan who had saved thousands of dollars in order to attend every one of his Australian shows. Last month, she was in a terrible car accident that left her with a fractured spine, internal bleeding, broken ribs and internal injuries, which meant she couldn't attend the concerts. Her friends then organized a social media campaign to get Justin to visit her instead, and it worked, but not in the way she thought.
The paper reports that Katie got a tweet on Wednesday morning from Justin's camp, and on Wednesday afternoon -- remember, Australia is way ahead of the U.S., timewise -- she was picked up from the hospital and taken to a private studio where Justin did an impromptu acoustic set for her and 50 other fans, organized by VEVO Australia .
Afterwards Katie tweeted , "I AM STILL IN SO MUCH SHOCK. HE IS HONESTLY SO CARING AND BEAUTIFUL I LOVE HIM SO MUCH. I HAD THE BEST EXPERIENCE OF MY LIFE THANK YOU SO MUCH....goodnight @justinbieber thank you for the best night of my entire life i love you more than you could ever imagine."
Justin responded by tweeting a photo of Katie kissing him , to which she responded, "OMFG HE TWEETED THE PHOTO OF ME KISSING HIS CHEEK." When Justin replied, "get some rest. Gnite," Katie freaked out again, tweeting, "HE TWEETED ME AGAIN WHAT THE HELL I REALLY CAN'T BELIEVE EVERYTHING THAT HAS HAPPENED TODAY IS THIS REAL LIFE."
Justin also posted an Instagram collage of pictures of himself with Katie, writing, "She's so strong." A Melbourne-based Bieber fan Twitter feed quoted Justin as saying, "I love my Beliebers so much. They are always there for me and have done so much for me. It was so special to be able to give something back, especially to an amazing fan like Kate, It is what my Believe tour is all about." Justin then retweeted that statement.
Copyright 2013 ABC News Radio