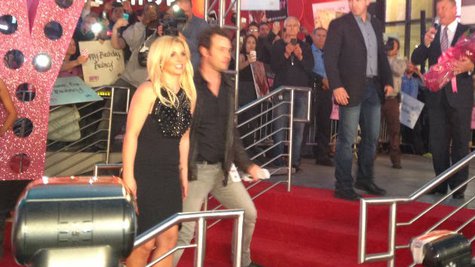 Hundreds of fans showed up at the Planet Hollywood Resort Casino in Las Vegas Tuesday night to officially welcome Britney Spears to the site of her upcoming residency, Britney: Piece of Me .
Shortly before Britney's arrival, at least a dozen or more performers from the show came out to entertain the crowd. They included an acrobat, a fire breather, a snake charmer and plenty of dancers in various outfits -– yes, of course there were schoolgirl skirts.
At the end of their performance, the Las Vegas strip was briefly shut down to make way for the singer's eight-SUV motorcade. Britney emerged from her car in a tight black dress with a rhinestone top, and took the time to sign autographs for a few fans before posing for photos, accepting flowers from a casino executive, and making a brief, unexpected announcement.
After greeting the town with an excited shout, she told the crowd, "I am so incredibly happy to be here right now. But this is my city now. So I can't wait to see you guys opening night."
The two-year run kicks off December 27.
Copyright 2013 ABC News Radio