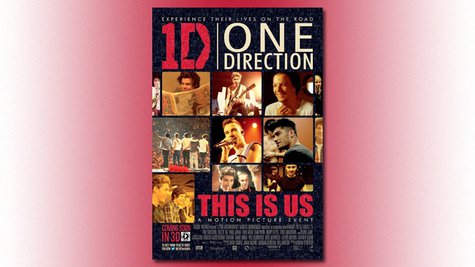 It's the moment that Directioners have been waiting months for: the release of One Direction 's new 3D movie One Direction: This Is Us . Directed by acclaimed filmmaker Morgan Spurlock , the movie, in theaters Friday, gives fans a behind-the-scenes look at the guys, their families, and the crazy phenomenon surrounding them. And according to Liam Payne , that's just the way the boys wanted it.
"The first thing we did was sit down with Morgan. We actually had dinner -- we had pizza if I remember rightly," Liam explains. "And we kind of just said, 'This is the kind of film we want to make, what do you think about this?'"
Liam says they told Spurlock, "We don't want it to be acted or scripted in any way, shape or form, and we want to get across the story of the fans and the way the fans definitely made this band and put us where we are, that we have the ability to now release a film in three years." He adds, "It's crazy."
But while the boys had the creative vision for the movie, Harry Styles says it was still a bit unnerving to watch the finished product, because it was so, well, final.
"When we watched the first final cut, it was kind of like, 'This is it. This is how we're watching it, and this is how everyone's going to see it. So it's done now,'" Harry remembers thinking. "And I think when you put yourself out [there], anything like that, even if it's putting out a new song, it's the same: you want people to like it, and it makes you feel vulnerable, putting yourself out there that much. So it was exciting, but it's nerve-wracking."
Some of the most emotional moments in the movie deal with the boys' parents' reactions to their sons' amazing success, and all the media attention that comes along with it. "It's been quite hard for our families, obviously, with us being so young and being taken out of our homes to do this and just seeing it all over newspapers and TV and stuff," says Liam. "So it's nice for them to get their point across."
Zayn Malik says he's especially happy that the cameras captured his mom's reaction the day he was able to buy her a house. "It's amazing...I have that piece of footage on tape for the next 10, 15 years and that's something that I'll keep quite close. So it's cool," he says.
Also cool: Zayn's plans to marry his fiancee, Perrie Edwards of Little Mix. But with four best friends in the group, who'll get to be his best man? "We've decided that it's a fight to the death," jokes Zayn. "Yeah, I think a fight to the death. If there's a fight to the death, there's going to be no one left except for the best man," laughs Louis Tomlinson.
The movie is projected to take in about $20 million at the box office over the weekend, according to Variety.
Copyright 2013 ABC News Radio