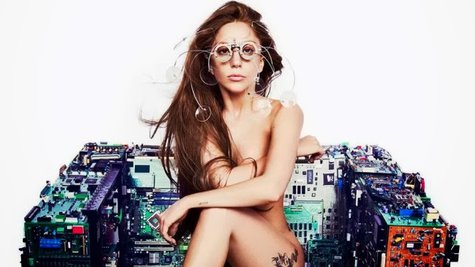 Is Lady Gaga' s ARTPOP a hard rock album? It sure sounds like that, judging from the two rehearsal footage clips she's shared with fans in advance of her performance this Sunday at London's iTunes Festival.
First, Gaga shared a clip of her performing the song "Swine," which featured her headbanging and whacking a drum kit while heavy guitars and drums backed her up. Now, she's shared a clip of her rehearsing another new song, "MANiCURE," and it's even more rocking. In the clip , Gaga performs wearing a black bra, black panties, stockings and jeweled boots and, while the audio is of poor quality -- on purpose, she says -- it sounds like the roughest, hardest music she's ever done.
"THE SOUND QUALITY OF THESE CLIPS HAS BEEN OBSTRUCTED TO GIVE YOU A TASTE OF ARTPOP BUT ULTIMATELY CONFUSE YOU UNTIL SUNDAY," Gaga tweeted .
Gaga then shared some of the song's lyrics: "I'm the one who's been comin' round lookin' to love-in-you/You're the medicine I need to heal/The way you make me feel/Heal me, 'cause I'm addicted to love (Man-Cure!)/Save me 'cause I'm addicted to love (Man-I-Cure!)."
Watch Gaga's performance streaming live via iTunes or the iTunes app at 4 p.m. ET on Sunday.
Copyright 2013 ABC News Radio