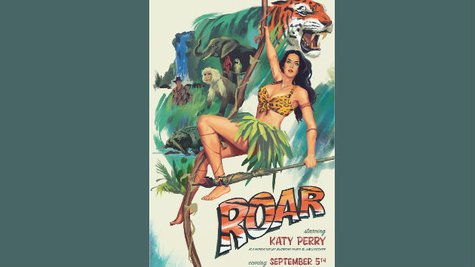 Katy Perry announced her single "Roar" by posing in a jacket decorated with a tiger, and since then, she's worn a variety of animal prints while promoting it. Now, the singer is continuing the jungle theme with the "Roar" video, which will make its debut this Thursday, September 5.
Katy tweeted the news, "THE #ROAR MUSIC VIDEO IS COMING TO YOU IN JUNGLESCOPE SEPT 5TH!" and added an image that looks like an old-fashioned Tarzan movie poster from the 1950s. In the retro image, Katy is seen in a leopard-print bikini top and a skirt made of leaves, hanging from a vine and carrying a spear. A crocodile, an elephant, a tiger, a monkey and parrots are shown behind her, as well as the shadowy figure of a guy dressed like Indiana Jones, with a fedora and explorer's jacket.
" Roar , starring Katy Perry, in a motion theory adventure filmed in Junglescope, coming September 5," reads the poster.
A trailer for the video features a jungle setting with real-life animals, and Katy, in her Tarzan outfit, swinging on a vine towards a waterfall.
Copyright 2013 ABC News Radio