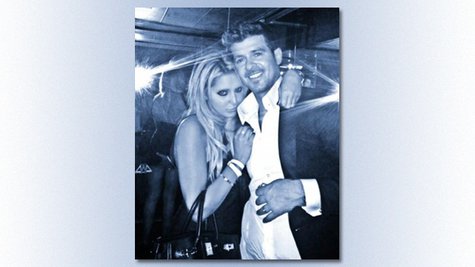 A viral picture is quickly replacing Miley Cyrus ' twerking as the naughty image of the night of last Sunday's MTV Video Music Awards -- and again, it involves her "Blurred Lines" duet partner, Robin Thicke .
A Twitter user called @JenLeadley sent a picture to Paula Patton , Robin Thicke 's actress wife, of Thicke and a blonde fan at a VMA afterparty at the New York City club 1Oak. The image looks harmless enough at first blush -- it's just Thicke with his arm around the young woman -- but what's happening behind the pair is more blush-worthy.
Thanks to a mirror, it sure looks like Thicke has his hand firmly behind the fan's behind -- his four fingers appear to disappear up the hem of her very short skirt.
The New York Post reports that sources say Patton was "unconcerned" about the picture -- as she was about Miley's grinding against Thicke onstage -- but noted that reps for both stars didn't return calls about the snap.
Copyright 2013 ABC News Radio