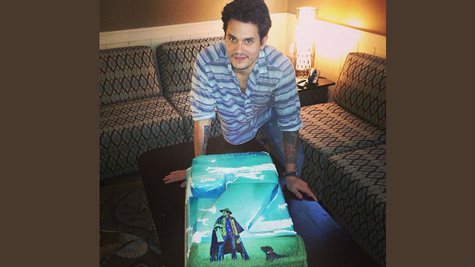 John Mayer 's current tour is his first following his recovery for the vocal issues that kept him silent for months. But he says he's still feeling the effects of those problems, and that's reflected in his set lists every night.
Speaking to Time magazine as part of its 10 Questions video series, John says that some of the earlier songs that fans love are just too high for him to sing these days. "All the early stuff, I can't do that full voice right now," he says. John explains that his two most recent albums, Born and Raised and his new one, Paradise Valley, both "stem from this inability to sing higher."
But old songs or not, John's current shows are still being well-received, and the singer says he doesn't mind that at the moment, he's not ruling the charts with pop hits like "Your Body Is a Wonderland." In fact, he says, he's not too concerned about anything these days.
"I'm not worried anymore, period, " he tells Time . "I'm not worried about pop hits. I'm not worried about sales, relevance...I care about one thing: tell your story. If you're on your sixth record and you're 35, you should be following wherever the road takes you."
Well, John does care a little : he recently posted a photo of himself posing with a cake celebrating the #2 debut of Paradise Valley on the Billboard chart this week.
" My friends know me too well," he captioned the photo. "An 'I'm Number Two' cake to celebrate Paradise Valley 's second place debut on the album charts. It's not about coming in at number one every time. It's about MUSIC!!!! Thanks to everyone who bought a copy and hope you're still digging it. Love ya."
John's Paradise Valley tour arrives in Saratoga Springs, New York on Friday night.
Copyright 2013 ABC News Radio