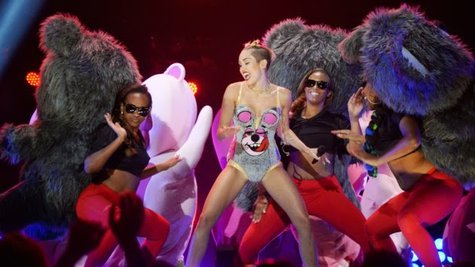 We're not sure why anyone would want their infant to emulate Miley Cyrus' performance at the MTV VMAs on Sunday night, but baby onesies featuring the same design as the leotard she pranced around in are now available online.
As noted by the Los Angeles Times , website RedBubble.com is now selling the onesies, which feature the same teddy bear face design -- with one eye closed and its tongue sticking out -- that Miley wore on Sunday night. That is, before she ripped it off to expose a flesh-colored bra and panties. The onesie , suitable for kids aged 3 to 24 months, costs about $22.
If you're an adult and don't know any better, you can also get a regular t-shirt with the teddy bear face design for $24.95. You can also access the products via the designers' Facebook page, Shirtaholics .
Meanwhile, Miley is still feeling the heat for her racy display at the VMAs -- this time, from an organization called the Teddy Bear Fund , which provides stuffed animals to kids in need.
Specifically, the organization is upset that Miley was joined on stage by a large number of dancers in bear costumes. A rep for the Teddy Bear Fund tells TMZ , "Miley made a poor choice to use a universally loved children's teddy bear in an offensive way....Hopefully she might consider reversing this situation by giving lots of teddy bears to children in need of comfort."
Copyright 2013 ABC News Radio