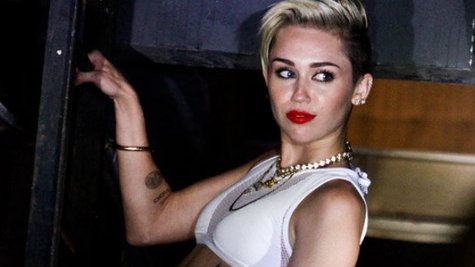 After scandalizing the world with her MTV Video Music Awards performance, Miley Cyrus' next move was evidently to collaborate with an artist who's even more controversial than she is.
The New York Post reports that Miley skipped her own VMA afterparty so she could head right into the studio for a "top-secret" session with none other than with Kanye West . According to the Post, the two recorded a remix of Kanye's song "Black Skinhead," which will be part of an EP due out later this year.
Meanwhile, top songwriter Sean Garrett tells Vibe magazine about another Miley collaboration: it seems that reports that she's teamed up with Britney Spears on a track on her upcoming CD Bangerz are true. "It's fun, exciting [music]. We got one with that Britney," he said of the album's material.
"[We] just got in the studio and wanted to make it the biggest record possible," he added. "It's just a pleasure to be working with some icons like that."
Bangerz is due October 8.
Copyright 2013 ABC News Radio