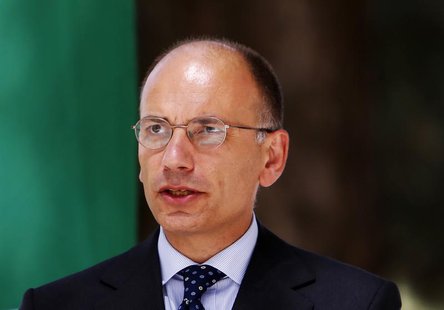 By Giuseppe Fonte
ROME (Reuters) - The Italian government moved closer on Wednesday to scrapping a property tax which had threatened to split the fragile ruling coalition and deepen the political turmoil caused by former premier Silvio Berlusconi's conviction for tax fraud.
Cabinet is due to meet at 5 p.m. (1500 GMT) to pass a decree and settle an issue which has dogged Prime Minister Enrico Letta's unwieldy coalition of traditional rivals ever since it was formed in the wake of February's inconclusive elections.
Berlusconi's center-right People of Freedom (PDL) party has insisted that the IMU housing tax on principal residences must be abolished as a price for its support for the government, fuelling fears that failure to reach a deal could trigger a fresh political crisis.
"Today IMU goes or Letta goes," headlined the right-wing Libero newspaper, which is normally very close to Berlusconi.
Senior political leaders in Italy - the euro zone's third biggest economy - have warned that any threat to the government's survival would risk a return to the kind of market turmoil seen at the height of the bloc's debt crisis.
With the political climate in Rome embittered by Berlusconi's conviction for tax fraud earlier this month and a looming vote in the Senate on whether to expel him from parliament, talks on the tax had been increasingly tense.
Letta's center-left Democratic Party (PD) had resisted demands to eliminate IMU altogether, saying that it would hit local services and other priorities including unemployment support. It proposed limited cuts that would have exempted most Italians while still imposing a levy on richer homeowners.
Final details of how to fill a funding shortfall of more than 4 billion euros created by scrapping the tax have not yet been settled and Wednesday's deal was expected to cover only payments for this year's tax, which was frozen as the Treasury looked for ways of filling the gap.
A broader reform of property tax is expected with the 2014 budget law in October which may include a new local tax to pay for some of the municipal services normally funded by IMU.
"A transitional arrangement is going to be inevitable," one official familiar with the matter told Reuters. "Once you get past the middle of the year, the budget has very little flexibility and a lot of spending items can't be changed."
MARKET CONCERN
Some 2.4 billion euros has already been earmarked and among the options being looked at to fill the outstanding funding gap are higher taxes on gambling or petrol, or those on second homes, but details were still being hammered out ahead of the meeting.
After weeks of relative calm for Italian government bonds, the uncertainty surrounding both the IMU issue and Berlusconi's conviction has unnerved investors, hitting Italian stocks this week and driving borrowing costs higher.
The main gauge of market sentiment, the spread between Italian 10-year bond yields and their safer German equivalents has widened markedly in recent days, climbing 30 basis points over the past two weeks to 261 basis points on Wednesday.
A deal on IMU on Wednesday would ease the pressure on Letta's government and avert the threat of an immediate crisis which could potentially trigger new elections, but the long months of wrangling have hampered its ability to achieve major reforms to the economy.
IMU, introduced by the technocrat government of former Prime Minister Mario Monti as it sought to avert a Greek-style debt crisis in 2011, has always been deeply unpopular in a country where more than 70 percent of families own their own houses.
But with Italy still struggling to emerge from its longest post-war recession, the list of problems awaiting solutions ranges from 40 percent youth unemployment to its 2-trillion-euro public debt, and the long wrangling over the tax has left many observers bemused.
"If the only problem facing Italy was IMU then you could say the country was doing pretty well," Riccardo Nuti, lower house parliamentary leader of the anti-establishment 5-Star Movement told RAI state radio. "But it's obvious the country isn't doing well and it has problems that are very different from IMU."
(Additional reporting by Valentina Za; Writing By James Mackenzie; Editing by Toby Chopra)