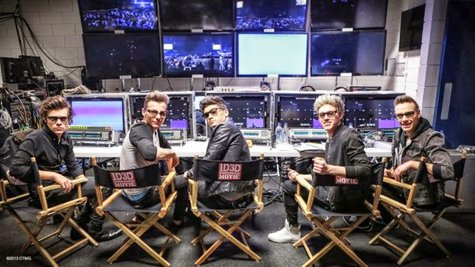 One Direction's new movie This Is Us will give fans a behind-the-scenes look at their lives when it opens on Friday, but there's one thing that you won't see in the film: the guys' love lives. However, they say that wasn't something they purposely left out.
"We've never been a band that has, like, lied about having girlfriends," Harry Styles told ABC's Cynthia McFadden in an interview, excerpts of which aired on Tuesday's Good Morning America. "If people have been going out with people, we've always said that we have."
One 1D relationship that absolutely can't be denied is Zayn Malik 's: he recently got engaged to Little Mix singer Perrie Edwards . Have the two singers set a wedding date yet? Apparently not. "I'm not sure myself yet," Zayn revealed.
It'll be hard for Zayn to find time to plan a wedding, since he and 1D are busy working on their next album. While critics have knocked the group in the past for not writing their own music, they won't be able to say that about this new disc.
"I'm gonna say 10 songs," Niall Horan said, when asked how many he and the group had a hand in writing. "I mean there's only 13, 14 songs on the next album so we wrote the majority of them," Liam Payne added.
In just three short years, One Direction has sold over 30 million records, and they're convinced that they'll be able to stand the test of time. "We've been having a lot of fun and working really hard," Harry said when asked where he sees the group in ten years' time. "And I think we just want to keep doing that and see what happens. "

This Is Us is in theaters on Friday.
Copyright 2013 ABC News Radio