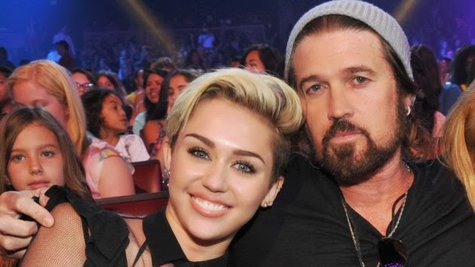 Miley Cyrus ' performance at the MTV VMAs has prompted many people to ask what her parents must think. Well, her dad Billy Ray Cyrus has now weighed in on his 20-year-old daughter's antics...and unsurprisingly, he's not upset.
Speaking to Entertainment Tonight , Billy Ray says, "Of course I'll always be here for Miley. Can't wait [to] see her when she gets home. She's still my little girl and I'm still her dad regardless how this circus we call show business plays out. I love her unconditionally and that will never change."
Billy Ray also clarified the tweet that he sent out the night of the VMAs, which he says had nothing to do with Miley's performance.
He had written , "Thanking God for so many blessings tonight. Continue to pray for world peace. More love ...less hate," and many thought that he was counteracting the criticism that Miley was getting. But he now tells ET that the tweet was a combination of two things: his feelings of gratitude for some recent happy things in his life, and his reaction to news that the Syrian government had allegedly used chemical weapons against its citizens.
Billy Ray also tweeted , by means of an explanation, "FYI "'Love Not Hate' Late last night I was watching devastating news out of Syria. Chemical weapons used on innocent children is unacceptable!"
Copyright 2013 ABC News Radio