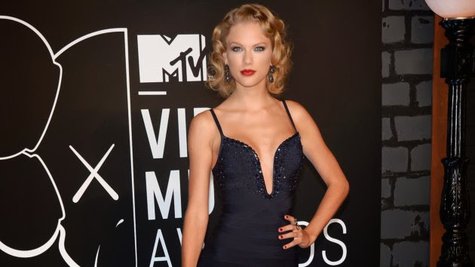 When Taylor Swift accepted her MTV VMA trophy Sunday night for her video for "I Knew You Were Trouble," she said pointedly, "I also want to thank the person who inspired this song, who knows exactly who he is, because now I got one of these!" While there has been plenty of speculation as to who, exactly, inspired the song, don't ever look to Taylor to clear up the mystery.
"For me, yeah, there's a lot of curiosity about who each song is about and that's kind of something that I love keeping to myself, never really revealing who exactly these songs are about," she explains. But why not just end the speculation and say, "Yeah, that one 's about John Mayer " or "That one's about Harry Styles ?" Because, Taylor says, that would take away all the fun.
"I like for people to be able to paint their own picture," she explains. "Of whether they want to think about their ex-boyfriend, or someone they know, or make up their own mind about who they think I wrote it about."
She adds, "It's all up to them, because I'm never telling!"
It's not clear who "I Knew You Were Trouble" is about. The song seems to pre-date Taylor's relationship with Harry Styles, since it was released in October of 2012 and they broke up in January of 2013. However, there are rumors that the two actually first dated very early in 2012, but then he dumped her for someone else. Either way, there's no hard feelings since Taylor actually posed for a photo with Harry after the VMAs Sunday night.
In other Taylor news, she's trying to show she's a good neighbor to her new community in Rhode Island, where she recently purchased a mansion. The Providence Journal reports that the singer has donated a signed signature guitar for a charity auction that will take place during the centennial ball for the town of West Warwick, Rhode Island.
The proceeds from the auction will go to a scholarship at the local high school, and to The Station Fire Memorial Fund. In 2003, during a rock show, The Station nightclub burned down, killing 100 fans and injuring more than 200 others.
Copyright 2013 ABC News Radio