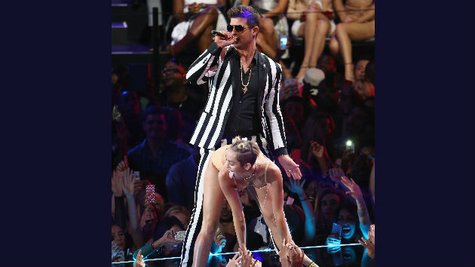 The most eyebrow-raising moment of Sunday night's Video Music Awards wasn't anything Lady Gaga did, for a change -- it was Miley Cyrus' super-provocative routine, which featured her sticking her tongue out, grabbing her crotch, using a foam #1 hand in sexual manner, and grinding suggestively against Robin Thicke , all while wearing the scantiest of outfits. Now, Robin Thicke's mom, of all people, has weighed in the performance.
Speaking to omg! Insider , Robin's mom, singer and actress Gloria Loring , said, "I don't understand what Miley Cyrus is trying to do. I think she's misbegotten in this attempt of hers. And I think it was not beneficial." She added, "I didn't get what her point was. It was so over the top as to almost be a parody of itself."
Meanwhile, the Parents Television Council, an education organization that advocates "responsible" entertainment, has issued a statement slamming Miley's performance, and the VMAs in general. "MTV has once again succeeded in marketing sexually charged messages to young children using former child stars and condom commercials -- while falsely rating this program as appropriate for kids as young as 14. This is unacceptable," said the statement from PTC's director of public policy.
The statement continues, "MTV continues to sexually exploit young women by promoting acts that incorporate 'twerking' in a nude-colored bikini. How is this image of former child star Miley Cyrus appropriate for 14-year-olds? How is it appropriate for children to watch Lady Gaga strip down to a bikini in the opening act? How is it appropriate for 14-year-olds to see a condom commercial and a promo for an R-rated movie during the first commercial break?"
Meanwhile, a PTC Advisory Board member added, "The Miley Cyrus/Robin Thicke performance simply substituted talent with sex...Heads should roll at MTV."
So, what about Billy Ray Cyrus , Miley's dad? His only reaction last night, via Twitter, was this: "Thanking God for so many blessings tonight. Continue to pray for world peace. More love ...less hate."
Copyright 2013 ABC News Radio