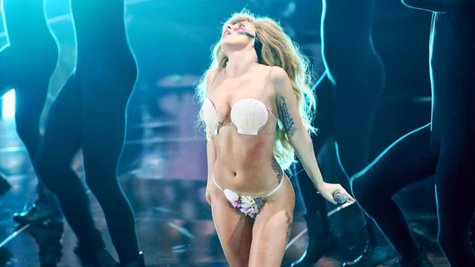 Lady Gaga opened the MTV Video Music Awards Sunday night with a performance of her latest single, "Applause," but before the song kicked in, she sang a bit of a very dramatic-sounding ballad that nobody had ever heard before. Now, she's explained exactly what it was she was singing.
Asked by a fan on Twitter if what she sang was a new song from her upcoming album ARTPOP, Gaga replied, "I wrote it special for this performance!"
Gaga also gushed about how pleased she was by the performance, writing on Twitter, "I felt so alive! All I remember is the audience cheering! I could barely hear! Hands in the air, smiles & flashes everywhere!" She also wrote, "That performance was so much fun I don't remember a thing! It felt so good to be on stage: there's no place like home *clicks ruby slippers.*"
She also confirmed that the booing you may have heard as she started the song was done on purpose, as part of the performance, and that the metal balls she was holding at one point were a reference to a series of works called " gazing balls " created by artist Jeff Koons , whom Gaga's been collaborating.
But Gaga seemed happiest to retweet a comment by Boy George , the iconic cross-dressing '80s musician who fronted the band Culture Club . "Comeback? Babe I had no idea u went anywhere," tweeted the singer. "The 1st part was very Liza [Minelli] I loved it! Such rich tones More of that! x." Gaga responded, "I love you!"
Copyright 2013 ABC News Radio