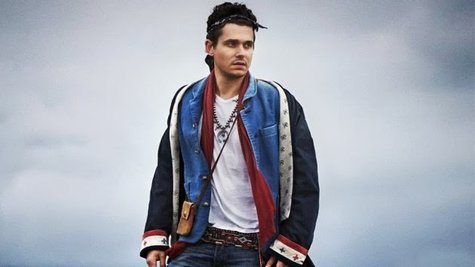 John Mayer's new album Paradise Valley is on track for a #2 on next week's Billboard chart.
Industry sources tell Billboard that the disc may sell around 150,000 copies by the end of this week. Keeping him out of the #1 spot will be country star Luke Bryan's latest, Crash My Party, which had a massive #1 debut this week, and is likely to spend a second week on top.
Paradise Valley , featuring a duet with John's girlfriend Katy Perry, will be his sixth studio album to hit the top 10. His last two albums, Born and Raised and Battle Studies , both debuted at #1.
In other John Mayer news, Life & Style magazine is claiming that he's preparing to pop the question to Katy, who he's been dating on and off for about a year. A "source" tells the magazine that John's been asking Katy's friends what kind of engagement ring she'd want, and what they think the best way for him to propose would be.
"They've been so serious about each other ever since they got back together," claims the source. "John wants to do something special, probably around the holidays. There are a lot of options on the table. Nothing is ruled out. It could happen on a romantic getaway or during a family dinner." Stay tuned.
Copyright 2013 ABC News Radio