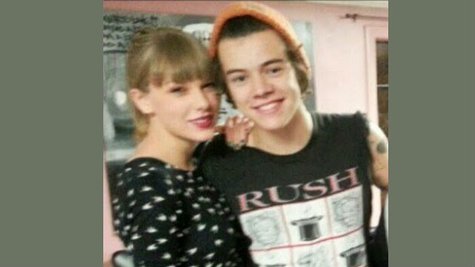 When Taylor Swift and One Direction 's Harry Styles ended their brief romance in January, everyone immediately started speculating about the songs she'd surely be writing about him. Well, it turns out that Harry fully expects that he'll inspire a Taylor tune or two, and he doesn't have a problem with it.
Speaking to Us Weekly magazine, Harry says, "It would be hypocritical for me to say she couldn't do it because everybody writes songs based on personal experience," adding, "I can't say I'd have dated someone less famous to avoid it." He said he's not nervous about being raked over the coals lyrically, like most of Taylor's other exes have been, and jokes, "At least she's a great songwriter!"
While Taylor and Harry were the talk of the tabloids for the few short months they were dating, Harry says that he'd never decide not to date someone just because their relationship might make headlines.
"You like people for who they are, so I couldn't say I want to date someone less famous because of the hassle. You like who you like," he tells Us Weekly . He adds, "I think relationships are hard enough, so I think you have to completely ignore everything from outside...I think you sort of have to block it out and just have the relationship, rather than think, 'We're having this relationship play out on magazine covers.'"
So at this point, what is Harry looking for in a woman? "Someone you can have fun with," he says. "I like someone who's up for doing stuff in terms of like, trying new things and going out new places. Not just someone who does nothing and wants to sit around." Got that, girls?
Copyright 2013 ABC News Radio