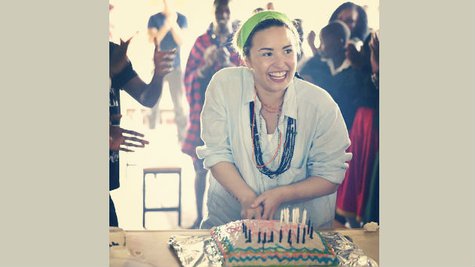 What did Demi Lovato get for her 21st birthday on Tuesday? A car? Some jewelry? An expensive bag? A killer pair of heels? No, something even better...a goat.
As previously reported, Demi decided to spend her milestone birthday in Kenya, Africa, doing charity work along with close friends and family. She tweeted on Wednesday, "This trip has been such an amazing experience. Yesterday was the best birthday of my entire life!!!"
She added, "This place is absolutely incredible. I'm so in love with Kenya. I'm so sad I'm leaving....," and then commented , "Btw... No big deal or anything but... One of Maasai communities gave me a GOAT for my birthday!!!!!!" She mentioned that she named her new pet "Billy," but didn't indicate if she'd be bringing him back with her to the U.S.
Another nice birthday surprise for Demi: a compliment from Lady Gaga . When a fan of Demi's -- who identified herself as a "Lovatic" -- tweeted to Gaga that she loved the singer's new track "Applause," Gaga wrote back , "greetings Lovatic. *take me to your leader. Her voice is be-au-ti-ful* (alien voice)."
Demi then retweeted Gaga's response and replied , "ahh!! Thank you!!!"
Copyright 2013 ABC News Radio