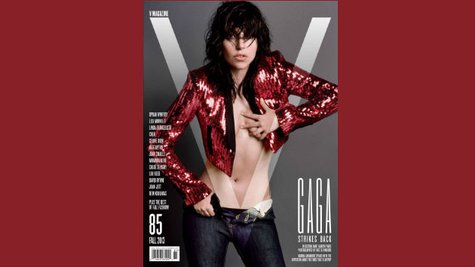 Lady Gaga is pulling out all the stops for her cover story in V magazine -- make that four cover stories. The singer has posed for four different covers, each representing a different phase in her life. The first one that's been revealed features Gaga as she was when she was about 19, and in the cover story, she says, "It was so hard for me to go back to that place."
The cover features Gaga with dark hair cut into a sort of shag; tight, partially-unbuttoned jeans; and a sequined jacket over bare skin. It's a very cool, '70s rock and roll style, but as she tells the artist Marina Abramovic in the cover story, "That look was very hard for me because that is how I looked when I was 19 until I was 21 years old...all these really painful things happened during that time."
"This is the me I was most afraid to ever be again. The me I'd left behind," Gaga says of the cover image. "I have an ability to endure physical and mental pain for long durations, months or years of time...although I was able to withstand a challenge for that period of time in my youth, the results were destructive. I was left a shell...Does anyone really know what I went through to get here?"
Gaga doesn't specify exactly what she's referring to, but she adds, ""Art was always the thing that drove me forward in these challenging and painful circumstances."
Part of the V photo spread, shot by Gaga's collaborators Inez & Vinoodh , shows the singer completely topless , her hair up, and her face and breasts smeared with what looks like black dirt. Her bottom is covered by what looks like a ripped T-shirt. In a second photo, her hair is down and she's wearing the ripped tee over bare skin, so you can see plenty of what's commonly called "side boob." Of course, if you saw the Kickstarter video that Gaga made to help raise money for Abramovic's foundation, you've already seen all that, and much more.
You can now pre-order all four covers of V magazine featuring Gaga in her many incarnations.
Copyright 2013 ABC News Radio