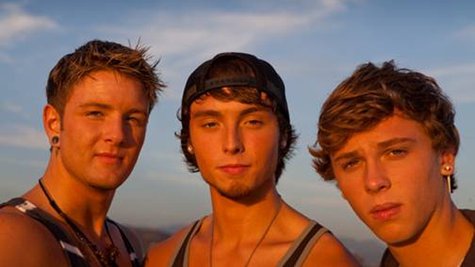 Emblem3 is on a roll. Coming off the top 10 debut of their first album, Nothing to Lose , the X Factor alums just won the Choice Music Breakout Group trophy at Sunday's Teen Choice Awards. Now, they're ready to tackle their biggest challenge yet: opening for Selena Gomez on her highly anticipated Stars Dance tour.
The tour gets underway Wednesday night in Vancouver, and the Emblem3 guys say fans who are looking forward to Selena's big pop production show may be surprised by what they're bringing to the table.
"It's like they're paying to go see Selena Gomez but then they get three freakin' California dudes before [that]," laughs Wesley Stromberg . Band mate Drew Chadwick adds, "We're not playing pop; our show's not a very pop show. It's like, 'We rock the f**k out,' you know?"
Instead of the choreography and costumes that Selena will be bringing on the road, Emblem3 says they're going for a more down-and-dirty approach.
"Basically we have a full band with drums, bass, guitar and everything," Wesley explains. "And it's us playing our old music, with our old reggae-punk style, mixed with a new pop sound. But it's all played by just us with the band and so it still has this really organic rock vibe." Drew adds, "There's a lot of musicianship going on."
But that doesn't mean they don't think the world of Selena. In fact, Drew says he's impressed that the "Come & Get It" singer seems to be quite down-to-earth, and not a diva at all. "I heard somewhere that she drives, just, an older car, like, not even trying to be flashy," says Drew. "And when I heard that about her, I was like, 'Wait. That's really cool that she does that!'"
More than anything, though, the group, which came in fourth on the second season of The X Factor , says they're looking forward to performing without being judged by Simon Cowell and a panel of other celebrities. When they play live these days, it's not for a TV audience -- it's for actual fans.
"They're all there because they like you," explains Wesley. His brother and band mate Keaton Stromberg adds, "It makes you appreciate shows now, because now [they're] a big lovefest, and it's, like, 'Wow.'
In fact, the group, which had a solid career and a body of work before they even stepped on the X Factor stage, says their fan base now includes plenty of folks who never watched the Fox reality show. Their hit single "Chloe" has definitely helped raise their profile.
"There's like a 50,000 to 100,000 [fans] that...straight up, don't even really know us from the show and they love our music and our original sound," explains Wesley. Keaton adds, "I think our numbers are building [and] growing. People are finding out about us just through 'Chloe.'" Noting that at their concerts, half the fans are yelling for "Chloe," while the other half are requesting earlier material that isn't even on their debut album, Drew says, "That's cool they know our old ones. It's like these two different styles."
Copyright 2013 ABC News Radio