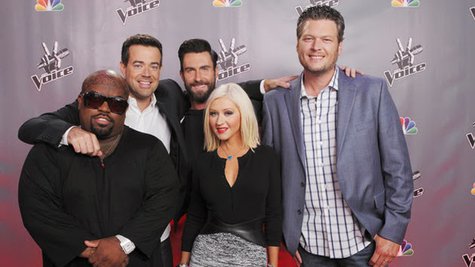 To most male onlookers, Maroon 5 's Adam Levine had the perfect life: he's a rich, handsome, famous rock star who could -- and did -- date an endless stream of supermodels. So why spoil all that by getting engaged? Adam's Voice colleague Carson Daly thinks he has the answer.
Speaking to Access Hollywood , Carson said of Adam's fiancee, Victoria's Secret model Behati Prinsloo , "Have you seen her? She'd make an honest man out of a lot of us! " But it's not just Behati's gorgeousness that inspired Adam to pop the question. According to Carson, it's being on set on The Voice that might have made him decide to renounce bachelorhood.
Carson says he thinks the "big family" environment of The Voice must've influenced the singer in some way. "I bring my kids -- I mean, it's around him, for sure," he explained. "[ Blake's wife] Miranda [Lambert] is there a lot with Blake, and my whole family is there, and Cee Lo has a big extended family and they're always there, Christina has got her kid there."
Does that mean that Adam and Behati are planning to start a family right away? "I don't know. He's gonna get married, we know that! So, we'll see what happens," Carson tells Access Hollywood . "He seems really happy."
Copyright 2013 ABC News Radio