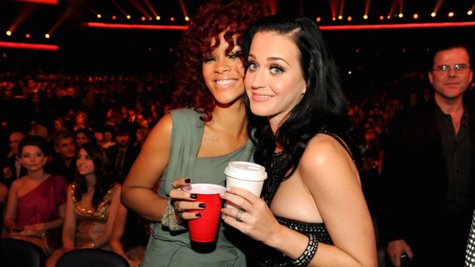 Picture it: Rihanna drops in on a Miami strip club with gal pal Katy Perry in tow, and the ladies make it rain on a few hardworking exotic dancers. That scenario isn't hard to believe, especially when TMZ has video of Rihanna doling out dollars during one stripper's performance. But alas, reports seem to have gotten a few details wrong, including all that jazz about Katy joining in the fun.
The truth is, Katy was all the way on the West Coast when RihRih was whipping out cash and throwing it up, throwing it up at the King of Diamonds gentleman's club in Miami. Responding to reports, Katy -- who seemed a bit bummed to be missing out on the action -- tweeted , "Ermm... I was in LA Saturday night... Should I be proud or offended I wasn't invited @rihanna #WHOISTHISDOPPLEGANGER."
It's not clear who witnesses mistook for Katy, or if there was a lookalike at all, but it seems Rihanna had fun on her own. TMZ reports that she dropped around $8,000 during the two and a half hours she spent at King of Diamonds. On Tuesday night, she went on to share photos from another strip club, Magic City in Atlanta, where she also papered the floor with crispy bills.
Copyright 2013 ABC News Radio