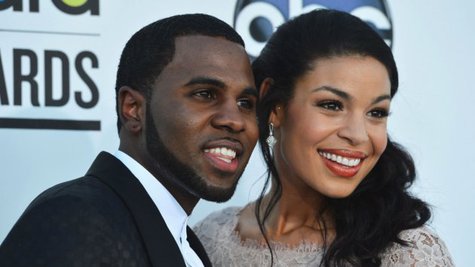 Jason Derulo and Jordin Sparks are pretty tight as a real-life couple but that doesn't mean their musical collaborations don't come without some challenges.
Speaking to MTV about working with Jordin on new material, Jason said, "We kind of butt heads in the studio, a little bit...we kind of work differently and we're very used to being in the studio, but being in the studio our way...it could get kind of ugly in there sometimes." However, Jason adds, "We made it happen. It's a beautiful thing."
The pair teamed up for two songs: one will be on her upcoming album, and one will be on his disc, which is due this summer. The first single, "The Other Side," is out now.
Jason says the music on his new record is informed by the horrific accident he suffered at the beginning of 2012: he fractured his neck. "I came off of a near-death experience, and it really helped me to grow up and change up a little bit. I feel like I'm a different person," Jason tells MTV, adding that the new album will reflect "a Jason Derulo that is a little more sleek, a little more refined."
Among the tracks on the disc are "super-emotional love songs and... crazy party records, all having to do with what I've been going through for the past year," he explains.
Fans will get a peek at the new-and-improved Jason when his video for "The Other Side" debuts later this month with, he says, "a lot of hot sexiness and some dancing."
Copyright 2013 ABC News Radio