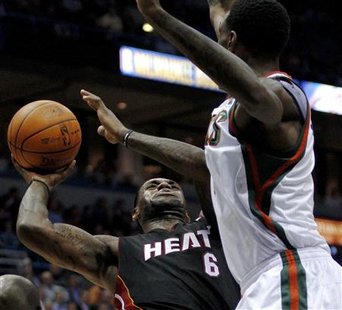 (1440 WNFL AM - Jason Miller) - 2013 has so many questions through out the season for the Milwaukee Bucks, one of which is can they win a game, two games, the series against the Miami Heat? Here's the answer... Miami has three guys that come to mind that Milwaukee will NOT be able guard on a consistent basis. Who guards these guys, LaBron James, Chris Bosh, and Dwayne Wade? Are you going to put Luc Mbah A Moute on James? Sanders on Bosh and Ellis on Wade? Then you have Jennings and Chalmers going at it. Along with all that we have Ersan Ilyasova and he will be matched up with either Haslem or Battier. Do you feel confident with any of that? Do you think the Bucks bench can play better than Miami's? You may point to the season record. I say this, there hasn't been one game played between the Bucks and Miami this season where the Heat was at full strength. Either, James, Wade or Bosh were out.
At the end of the day, the Bucks have bigger problems than if they can win a game in this series. They need to worry about who will be there next season. Not trading away either Jennings or Ellis was a huge mistake cause there is no way the Senator pays for both. Which leads us Bucks fans to the draft and does it excite you to find someone in the draft to replace Jennings or Ellis? I didn't think so. Bucks might win one at home so I'm picking the Heat in 5 wrapping it up and leaving the city of Milwaukee in a state of frustration AGAIN.
What does this team need? An owner who cares? A GM who's job doesn't seem to be guaranteed? A new arena? At the end of the day we have more questions than answers and that is never a reciepe for success.
Check out the story from Yahoo Sports and see what they have to say.