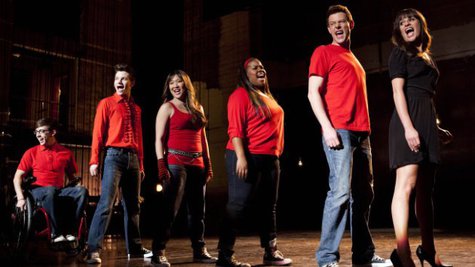 Of all the songs covered on Glee, the most memorable is probably the cast's version of Journey's "Don't Stop Believin'" -- which is why the show is bringing it back Thursday night for a fourth time.
In the episode, called "Sweet Dreams," Rachel is auditioning for a Broadway production of Funny Girl and her biological mother Shelby, played by Broadway star Idina Menzel , returns to give her some pointers. The song she chooses for her audition is "Don't Stop Believin'," and as she sings it, the original New Directions lineup appears in her imagination to help her through it. The number is staged the same way as the song was performed in the original pilot, right down to the costuming.
In addition to the show's pilot episode, "Don't Stop Believin'" was also performed by members of the cast in the episodes "The Rhodes Not Taken" and "Journey to Regionals." Technically, it was also performed in the episode "Sectionals," but not by the members of New Directions.
Elsewhere in the episode, Finn and Puck are invited to join a college fraternity, and NeNe Leakes returns as Coach Roz Washington, who steps in for the fired Coach Sue Sylvester. You may recall Sue lost her job last week after she covered for Becky, who was the one responsible for a gun going off in the school.
Also performed in this episode is "Next to Me," by Emeli Sandé , sung by Rachel and Shelby; "Fight for Your Right (To Party)," sung by Finn and Puck; and two original songs, one titled "Outcast" and one called "You Have More Friends than You Know." In the plot, the latter song is supposedly written by Marley for Regionals.
Copyright 2013 ABC News Radio