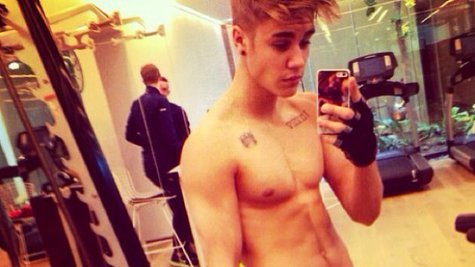 Justin Bieber will be lending his voice to an upcoming episode of The Simpsons.
According to Fox, we'll be hearing The Bieb on an episode airing Sunday, May 21 called "The Fabulous Faker Boy." In the episode, Marge encourages Bart to be creative, and hires a beautiful Russian girl to be his new piano instructor. Meanwhile, Homer loses the last two hairs on his head, and tries to hide it from Marge with a variety of hats.
It's not clear exactly where Justin will fit into the plot here. One of the other guest voices is Sir Patrick Stewart , considered to the epitome of a sexy bald man, so he'll probably be part of the Homer storyline. Justin's famous for his hair, so perhaps that will factor into it.
In other Justin news, he's poking fun at the media for breathlessly reporting that his every move is a sure sign that he's headed for a Lindsay Lohan -style breakdown.
The singer posted a few shirtless pictures of himself on Instagram and added one caption that read, "Breaking news @justinbieber just posted 2 shirtless pictures he must be going crazy -- funny people #forthefansanyways." The other caption read, " Uh oh @justinbieber is losing it taking shirtless pics in the mirror" -- funny people."
Copyright 2013 ABC News Radio