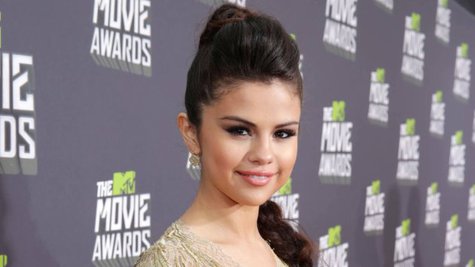 Before she debuted her new single "Come and Get It" on the MTV Movie Awards on Sunday, Selena told MTV that she was inspired by a past iconic MTV performance: Britney Spears ' "I'm a Slave 4 U." Well, Britney appreciated that, and has now raved about Selena's performance on Twitter.
"Wow @SelenaGomez ... 'Come & Get It' on the #mtvmovieawards was incredible! One of my favorite songs out there right now!" tweeted Britney. She added, addressing Selena, "and thank you for all of the kind words about the VMA Slave performance...you're too sweet! Means a lot to me." Selena responded to Britney, "Thank you so much!"
Selena's performance featured her dancing barefoot wearing a red Indian-style costume. It's not so much that her performance looked or sounded like Britney's -- she wasn't holding a snake, for one -- but that the performance served as a reintroduction of herself as an artist, as Britney's performance did for her.
"I wanted to make the performance something that'd be a game-changer for me, personally, because I wanted to out-do everything else I've done as an artist," she told MTV, adding that Britney's "I'm a Slave 4 U" "was kind of when she had her transitioning moment, and that definitely inspired me for this one, for sure."
Copyright 2013 ABC News Radio