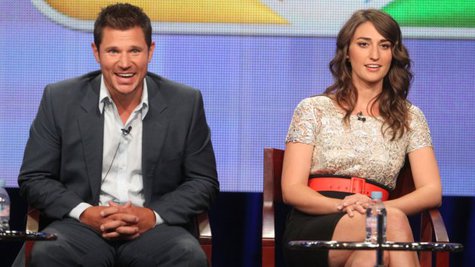 NBC's a cappella competition The Sing-Off is coming back, but Sara Bareilles isn't.
The singer, who was a judge on the show along with Ben Folds and Shane Stockman of Boyz II Men , won't be returning, according to Entertainment Weekly . A source close to the singer says Sara wants to "focus on her music," and indeed, she recently announced a new album, a new single and a tour.
As for Shane and the show's host, Nick Lachey , it's not clear if they'll be able to fit The Sing-Off into their schedules: they'll both be on the road all summer as part of the Package Tour with New Kids on the Block , Boyz II Men and 98 Degrees . But Nick says he'd love to continue to be part of The Sing-Off.
"I certainly hope so," he told ABC News Radio. "That show is very special to me, obviously, being with it from the beginning, and a cappella, what it's meant to our group [98 Degrees]...it's a very meaningful art form." He added, "I'd love to be able to do it again. It's obviously just schedule permitting and all that good stuff."
The Sing-Off will return sometime around the holiday season; a search for contestants will begin at the end of the month.
Copyright 2013 ABC News Radio