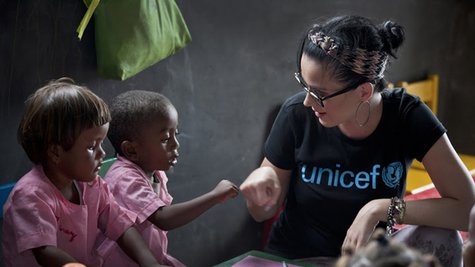 "Heading to Africa, no joke," Katy Perry tweeted on April 1, and indeed, she did. The singer has just wrapped up a visit to Madagascar -- the country, not the animated movie -- on behalf of UNICEF. The purpose of Katy's visit was the highlight the plight of kids in that country, which is one of the poorest in the world: more than three out of four kids in Madagascar live in extreme poverty.
In a statement, Katy said, "In less than one week here in Madagascar, I went from crowded city slums to the most remote villages and my eyes were opened wide by the incredible need for a healthy life -- nutrition, sanitation, and protection against rape and abuse -- which UNICEF is stepping in to help provide."
Katy began her trip in the slums of the capital city, and also visited a child protection center, where she met abused and abandoned kids and young mothers. She also traveled to a pre-school and primary school, which is helping bring back education for kids. Following the country's 2009 political crisis, there were drastic cuts in government spending that basically canceled schooling for Madagascar's children.
"An education is an incredible opportunity here," said Katy. "I visited a very remote community, where children and teachers walk for 45 minutes just to get to school. This is a testament to how appreciative they are about their education."
Copyright 2013 ABC News Radio