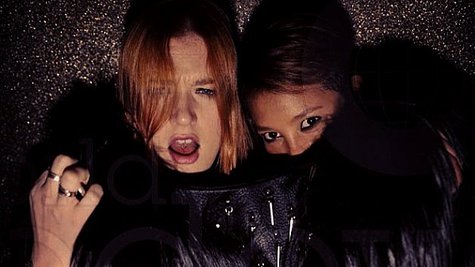 Swedish duo Icona Pop got some big TV exposure last week when they performed their hit "I Love It" on ABC's Dancing with the Stars. But Caroline and Aino , the two girls who make up Icona Pop, already have American TV to thank for their big breakthrough.
The duo's gold-selling hit single, "I Love It," has been featured in episodes of the shows Girls and The Vampire Diaries , but many people were first introduced to the song through its use as the theme song for MTV's Jersey Shore spinoff Snooki & JWoww. And though the Caroline and Aino have never actually met Snooki and JWoww , they think their song fits the show quite well.
"I mean, it's perfect," Aino tells ABC News Radio. "They're two girls and they don't care, and they just have fun, [like us]. So we would love to party with them sometime!"
As for the song itself, despite the repeated lyrics "I crashed my car into the bridge," it's not really about dying in a car crash. "It's about coming out of a really bad heartache," Caroline explains. "Basically, the day when you start to feel that you are feeling so much better without this guy, and you turn kinda the sadness into hate."
But in real life, have Caroline or Aino ever crashed their cars into a bridge in the wake of a bad romance. "Well, I think we both did in our heads, but we haven't done it yet," laughs Aino. "We've been crashing a lot of expensive cars in our heads!" adds Caroline. "But not our cars. Stupid guys' cars," Aino clarifies. "Yeah, stupid, evil guys!" laughs Caroline.
Icona Pop will be on the road all summer performing at various music festivals, including New York's Governors Ball, Chicago's Lollapalooza and Montreal's Osheaga Festival.
Copyright 2013 ABC News Radio