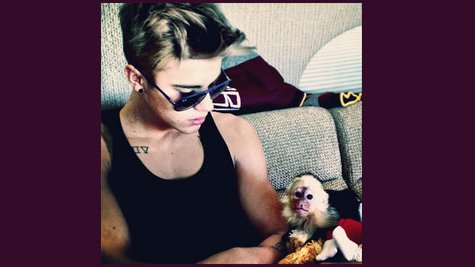 A couple of animal rights groups in Germany want Justin Bieber to cut it out with the monkey business.
The German branch of People for the Ethical Treatment of Animals said Wednesday that Justin's pet monkey, Mally , is being well taken care of at a shelter after it was seized from him by German customs officials last week.
Apparently that's not good enough for two German organizations that argue Justin has shown a lack of respect for animal protection laws. According to E! News , Animal Public and Tierschutzbund e.V. are calling for Justin to pay a fine of roughly 64 thousand U.S. dollars.
The groups also want Justin to issue an apology, presumably for owning Mally in the first place. On its German-language website , Animal Public has posted a quote from its spokesperson that reportedly reads in part, "Mally is only 14 weeks old. To separate him from his mom and to take him on tour as a living stuffed toy can only be characterized as animal cruelty." Basically, the group doesn't want to see Justin reunited with Mally.
Mally was taken away from the singer because he failed to provide the proper paperwork required to bring the animal into the country. Justin can get the monkey back if he fills out the required documents within the next few weeks.
The Bieb has concert dates in Germany Friday and Saturday night.
Copyright 2013 ABC News Radio