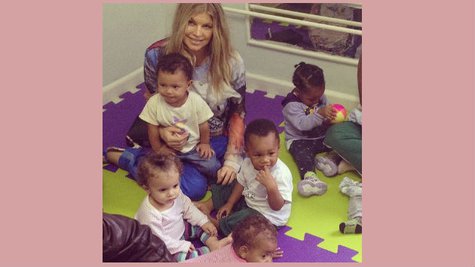 Fergie recently spent some time in Brazil as a guest of the fashion house Hugo Boss, and while she was there, she took some time out to visit some special people: needy kids at a local youth center.
According to E! Online , during her time in Rio de Janeiro, Fergie dropped by the Solar Meninos de Luz foundation, which provides educational, health and other support to underprivileged children and their families. Of course, she documented her visit, which has been on her to-do list for a while, on Instagram.
In her Instagram post , Fergie wrote that she'd "h eard about this school for a long time," adding, "So happy I finally get to visit." She added , "Just had the best afternoon ever w/ meus novos amigos Brasileiros," which is Portuguese for "my new Brazilian friends."
In her photos, Fergie is seen as smiling as she hangs out, talks and poses for pictures with children at the foundation. The pregnant singer even enjoyed some mommy practice time as she sat on the floor holding and surrounded by some of the center's toddlers, who she dubbed "t he coolest kids ever. "
Copyright 2013 ABC News Radio