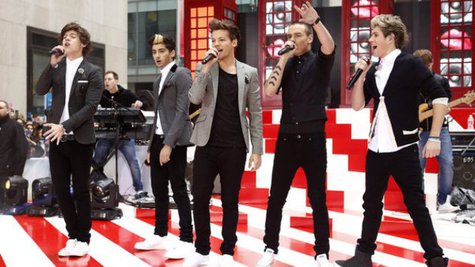 The guys of One Direction are headed toward crazy rich.
Just three years after Harry Styles , Niall Horan , Zayn Malik , Liam Payne and Louis Tomlinson came together as the band One Direction, they've earned almost $39 million, or about $7.8 million for each guy, reports the Irish Sun . The band's superstar status earnings has them poised to be dubbed the richest boy band on the Sunday Times ' annual Young Musicians Rich List. Last year, Adele took the top spot on the Young Musicians list, which will be out later this month.
In other 1D news, is Harry looking to establish a solo career? The U.K. publication Mirror claims Harry was in the studio in Hollywood, California, as recently as last week, recording several songs for a solo effort.
However, it appears as though this report is erroneous, since a spokesperson for the band told another British tabloid, the Daily Mail, " Harry is not recording solo material. All of the band are working on tracks for their third album. Harry is putting together some ideas for the record. The boys sometimes work up ideas separately as well as working together, as they did last year."
So don't worry, 1D fans: Harry isn't going anywhere anytime soon.
Copyright 2013 ABC News Radio