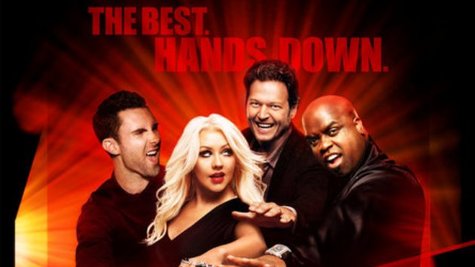 Tuesday night's edition of The Voice saw the second of the knockout rounds, with Devyn DeLorea , Adriana Louise , Dez Duron , De'Borah , Liz Davis , Sylvia Yacoub , Terry McDermott , Michaela Paige , Julio Cesar Castillo and Cassadee Pope advancing to the live playoffs.
Contestants from teams coached by Christina Aguilera and Blake Shelton were matched in pairs, each singing songs of their own choosing. Each judge made his or her choice to keep one singer and send the other home. Adam Levine and Cee Lo Green were on hand to make comments. They made their team selections on Monday.
Five contestants from each team will represent their respective coaches in the live playoffs, beginning next week. In the end, one will be named "The Voice" and will receive the grand prize of a recording contract.
Here's how Tuesday's knockouts went down:
Team Christina:
-- Devyn DeLorea chose to perform "I Have Nothing" by Whitney Houston . Her opponent Laura Vivas sang "I Need to know" by Marc Anthony . Cee Lo liked Laura's "grand" performance. Christina called Devyn "ambitious" for taking on a Whitney song. In the end, she advanced Devyn to the live rounds, sending Laura home.
-- Adrianna Louise selected "Already Gone," by Kelly Clarkson while Celica Westbrook picked Justin Bieber 's "Never Say Never." Both young women are powerful pop singers. Blake thought that they both had "pitchy moments" but Adam defended them. Christina decided to keep Adriana on her team, meaning the end of the line for Celica.
-- Alessandra Guercio performed Rihanna 's "Take a Bow," while Dez Duron went with Lionel Richie 's "Stuck On You." Adam called them both "super talented" while Blake dubbed it the "battle of the heartthrobs." Christina was torn but elected to keep Dez in the contest, dropping Alessandra.
-- Chevonne took on De'Borah in the next match up. Chevonne chose to sing "Dancing with Myself," by Generation X/Billy Idol . De'Borah decided on "You Found Me" by The Fray . Adam liked both contestants' stage presence. Christina called them both naturals and said she "loved them both dearly." She advanced De'Borah, sending former Lady Gaga backup singer Chevonne home.
-- Aquile chose to sing "Grenade," by Bruno Mars , while his opponent Sylvia Yacoub went with Christina's own song, "Fighter." Blake though Aquile was "solid" but Sylvia's performance was "a** kicking." Coach Christina kept Sylvia to complete her team. Aquile left the contest.
Team Blake:
-- Gracia Harrison sang Aerosmith 's "I Don't Want to Miss a Thing," while fellow county singer Liz Davis sang Miranda Lambert's "Gunpowder and Lead." Christina preferred Liz's performance. Blake admitted he would "buckle" in this sing-off situation. He chose to take Liz with him to the live rounds, letting Gracia go.
-- Rudy Paris chose the Chris Brown song "Forever." He was pitched against Terry McDermott, who went with Paul McCartney 's "Maybe I'm Amazed." Christina thought Rudy's song choice was "interesting" but called Terry "incredible." Blake advanced Terry, sadly sending Rudy home.
-- Colin McLoughlin picked The Script 's "Breakeven (Falling to Pieces)" and Michaela Paige chose Pat Benatar 's "Love Is a Battlefield." Christina thought Michaela had an emotional connection with her song choice. Adam liked Colin's "flawless" vocal. Blake chose Michaela to advance to the live playoffs, meaning the end of Colin's journey on the show.
-- Julio Cesar Castillo sang Justin Bieber 's "Somebody to Love," while MerissaAnn chose Labelle 's "Lady Marmalade." Christina loved MerissaAnn's fire, singing a song which she helped make famous. However, Blake decided to pick Julio to advance to the live rounds.
-- Cassadee Pope and Suzanna Choffel were Blake's last match-up. Cassadee went with Maroon 5 's "Payphone." Suzanna picked Bob Marley & the Wailers' "Could You Be Loved" Christina loved Suzanna's song choice but was not sure it was right for the competition. Adam was impressed with Cassadee's version of his band's song. Blake completed his team by keeping Cassadee and saying goodbye to Suzanna.
The final teams going into next week's live playoffs are:
Team Adam: Joselyn Rivera , Joe Kirkland , Amanda Brown , Lauren Allred and Melanie Martinez.
Team Cee Lo: Cody Belew , MacKenzie Bourg , Trevin Hunte , Nicholas David and Diego Val.
Team Christina: Devyn DeLorea, Adriana Louise, Dez Duron, De'Borah and Sylvia Yacoub.
Team Blake: Liz Davis, Terry McDermott, Michaela Paige, Julio Cesar Castillo and Cassadee Pope.
The Voice returns to NBC on Monday at 8:00 p.m. Eastern time.
Copyright 2012 ABC News Radio