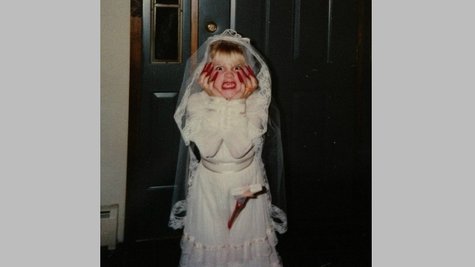 We're not sure what she dressed up as this year, but now we know what Pink 's Halloween costumes were back when she was a kid. The singer has posted a slew of old Halloween photos on her Instagram account for fans to see.
"Here's some Halloween inspired 'throwbacks' for ya'll:)" she wrote on Twitter, and posted the first of several links to her pictures. In the first one, she looks about four years old and is wearing a rabbit costume: pink footie pajamas and a hat with bunny ears. In the next picture , she's a little older, wearing a fairly elaborate clown costume. "It was pretty fabulous...I was always a clown!" she writes.
That isn't exactly true, though, because in the next picture, she's wearing a white bride's dress, blood-red long fake fingernails and red lips, and making a scary face. " Not sure what I was going for here.... Started out as Glinda the good witch and went straight to the dark side," she wrote.
In another picture , she's older, and wearing a white shirt, white pants, an oversized necklace and bracelet, plus a sparkly sequined mask. " This must've been my interpretation of Madonna ," writes Pink.
Another photo shows Pink dressed as a giant piece of chewing gum, labeled "Sugar-Full Bubble Gum." "Ouch!" she writes.
We can't wait for Pink to reveal what costume she chose for her daughter Willow .
Copyright 2012 ABC News Radio