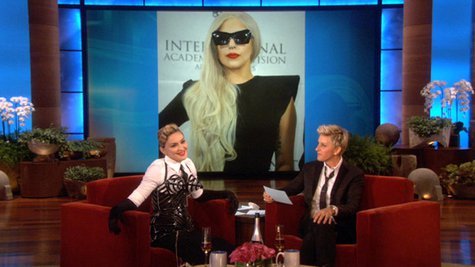 When Madonna appeared on The Ellen DeGeneres Show on Monday, she brought a mask along with her, behind which she planned to hide if Ellen asked any uncomfortable questions. But when Ellen asked her to reveal her feelings about some of music's biggest names -- including Lady Gaga -- Madonna answered.
Ellen read off a list of performers and then asked Madonna to respond to each one. For Britney Spears , Madonna said, "Great kisser," provoking laughs from the audience. For Katy Perry, Madonna joked, "Haven't kissed her." For Beyonce , Madonna said, "Incredible voice."

When Lady Gaga's name came up, Madonna paused. When the audience started laughing, she said, "I know everyone's waiting on the edge of their seat for this. I'm playing this one out!" She took a deep breath and then offered, "Good voice." After the audience cheered, Madonna added, "She actually has a beautiful quote from Rilke tattooed on her arm, which I like."
That quote, written in German, translates to, "Confess to yourself in the deepest hour of the night whether you would have to die if you were forbidden to write. Dig deep into your heart, where the answer spreads its roots in your being, and ask yourself solemnly, Must I write?"
Continuing with the game, Madonna said of Pink , "I like her, she's cool." Rihanna ? "I like her, I think she's sexy." Jennifer Lopez ? "Nice ass," said Madonna, drawing laughs from the crowd. Nicki Minaj? "Nice ass!" repeated Madonna, drawing more laughs. And one more...her frenemy, Elton John . What did she have to say about him? "Nice ass," said Madonna, collapsing into laughter as the audience cheered.
Copyright 2012 ABC News Radio
video platform video management video solutions video player