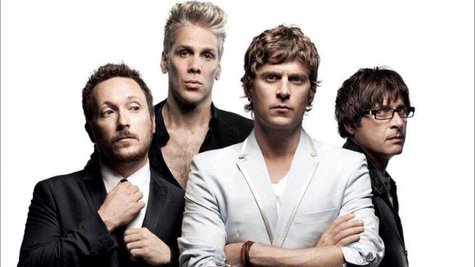 Matchbox Twenty has just released a new video, but they barely appear in it. Instead, most of the spotlight goes to Twilight hottie Kellan Lutz , who stars in the clip with his real-life girlfriend.
The video is for the uptempo song "Put Your Hands Up," from Matchbox Twenty's new album North . It was released in Australia first, but is now available to watch on YouTube and on the band's website . According to the Australian Herald Sun , the director hired to shoot the video happens to be a friend of Kellan's, so he asked the actor and his girlfriend, Australian actress Sharni Vinson , to be its stars.
In the clip, Kellan and Sharni notice each other in a hot and sweaty nightclub. With a series of glances, Kellan invites Sharni into the back with him, where they start nuzzling and fondling each other. Finally, they start sucking face, but at the last minute, Sharni's friend grabs her hand and pulls her away and out of the nightclub. Kellan runs out, searching frantically for her, but she's gone.
Matchbox Twenty's only appearance in their own video comes via a few brief images of singer Rob Thomas on a small black and white TV. The band is currently on a tour of Australia which wraps up in mid-November.
Kellan, who plays vampire Emmett Cullen in the Twilight films, also appeared as himself on the October 25 episode of NBC's 30 Rock . He'll be seen in The Twilight Saga: Breaking Dawn Part 2 next month.
Copyright 2012 ABC News Radio