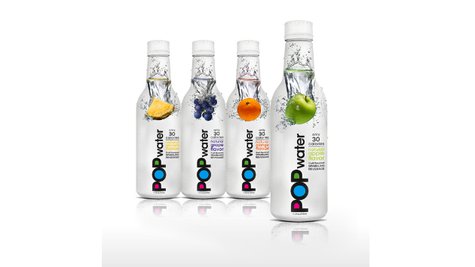 Remember those rumors about Lady Gaga launching her own brand of water? Well, it turns out they're sort of true.
Billboard reports that Gaga's manager, Troy Carter , and her favorite photographer, Terry Richardson , are teaming up to launch "Pop Water" in early 2013. Pop Water is being positioned as healthier than sugary soft drinks: one can will contain seven grams of sugar and 30 calories. The sparkling beverage will be available in apple, orange, pineapple and grape to begin with. Richardson will be the brand's creative director.
The product's website has no mention of Gaga, but the splash page shows a woman's open mouth and tongue; it could be the singer's mouth, for all we know. Of course, Gaga's new album is called ARTPOP , so the name is somewhat connected to her.
Carter didn't say whether Gaga would appear in ads for the water. He tells Billboard , "We're talking to a bunch of music and pop culture icons who've tasted the beverage. We're gonna have a lot of support behind this."
Explaining why he wanted to start Pop Water, Carter explained, "We noticed none of the brands had music in their DNA. We felt we could build something with relevance to music and pop culture if we built something from scratch."
Copyright 2012 ABC News Radio