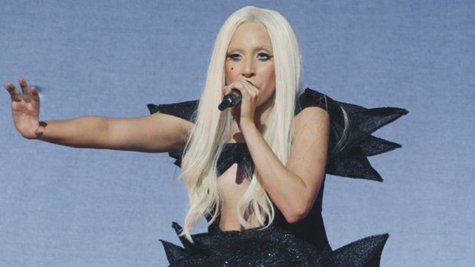 Lady Gaga seems to be in a confrontational mood these days. After telling off a South African rap group for skewering her in their video, she started up with Calvin Harris , after the Scottish producer and deejay made some comments about her that she said weren't true.
Speaking to BBC Breakfast , Harris -- whose new album 18 Months just came out -- said that he had turned down the chance to work on some of Lady Gaga's tracks back in 2008, before she became a superstar. It seems he "didn't really like the songs" he was sent.
Gaga initially responded to Harris' comments in a general way, tweeting, "Seems to be trendy lately to talk s**t about 'lady gaga' when your albums/singles drop. Y'all should live off your own hustle." But then, she targeted him directly, writing , "never even emailed you @calvinharris I guess it's hard to believe I write + produce my music. cuz I'm a woman I don't know about EDM right?" "EDM" is Electronic Dance Music, the genre for which Harris is best known.
But Calvin fought back, responding to Gaga by saying, "no your label emailed me. I always make sure I say Im a fan when asked about it, I apologize if I offended u, wasn't the intention."
That won Gaga over, because she then responded, " @CalvinHarris thanks for the apology & explaining. My apologies too. Congratulations on your album. Wish you well. Cheers."
Copyright 2012 ABC News Radio