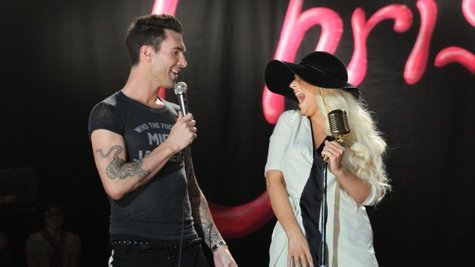 Adam Levine is enjoying the spoils of success, thanks to Maroon 5 and The Voice . He's just purchased a new estate for close to five million bucks.
The Los Angeles Times reports that the singer's new pad is in the Beverly Crest area of L.A., and is set on 3.6 acres. The property includes both a ranch-style home and a guest house, which between them have six bedrooms, seven bathrooms and 6,539 square feet of living space. Of course, there's also a swimming pool and a tennis court.
In other Adam news, he told reporters on Friday that anyone who disses his fellow Voice coach, Christina Aguilera, because of her weight should just "grow up."
According to People magazine, Adam said, "The one thing about the culture right now, celebrity culture particularly, is people feel like they can just say nasty things about other people...She gets a lot and it pisses me off. Of course I have her back and of course I defend her."
He added, "It's not cool. I've never liked it. I think it's horrible and I'll totally defend [Christina] when people say things like that because it's no one's business."
Copyright 2012 ABC News Radio