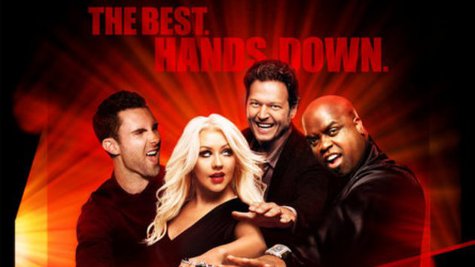 Tuesday's installment of The Voice featured the final one-on-one battles between pairs of contestants as the coaches' completed their teams. Christina Aguilera used her last available steal to add former Lady Gaga backup singer, Chevonne , to her team.
Also advancing to the knockout rounds were Michaela Paige , representing Blake Shelton 's team, Avery Wilson for Cee Lo Green and Adriana Louise , who also joined Team Christina. Judge Adam Levine had already filled all the slots on his team.
The knockout rounds of the contest begin next week.
Here are some of Tuesday's highlights:
Team Christina:
-- Two young pop-powerhouses, Adriana Louise and Jordon Pruitt were matched up. The women received "priceless advice" during rehearsals from Green Day' s Billie Joe Armstrong , who wanted them to compete, but also find a balance in their performances. They sang a lively version of "Hot N Cold" by Katy Perry . Cee Lo thought he'd seen one of the show's best battles. Adam also said that the battle was even. In the end, Christina chose to advance Adriana to the knockout rounds.
Team Blake:
-- Teenagers Kelly Crapa and Michaela Paige faced off on the song "I Hate Myself for loving You." by Joan Jett and The Blackhearts . They were joined in rehearsals by Michael Buble who was amazed at the talent from such young contestants. Both girls were reeled in by Blake and Michael, who advised them to let the song speak for itself. Christina joked that she expected an actual fist-fight between the contestants. Adam liked how the opposite styles worked together. Blake's final decision was to pick Michaela to continue on with his team.
Team Cee Lo:
-- Avery Wilson and Chevonne both have what Cee Lo describes as a "dramatic quality' to their voices. They battled it out on David Guetta with Sia 's, "Titanium." Avery's voice was a little hesitant in rehearsal. Guest mentor Rob Thomas praised Chevonne's practice sessions. Chevonne has the experience of being a backup singer for Lady Gaga on her Monster Ball Tour . Adam called the joint performance amazing. Christina praised Chevonne, and stated that she was already a fan of Avery. Cee Lo was proud of both of his team members but elected to keep hold of Avery. This allowed Christina to use her final "steal" of the season and add Chevonne to her team.
The Voice returns to NBC on Monday at 8:00 p.m. Eastern time.
Copyright 2012 ABC News Radio