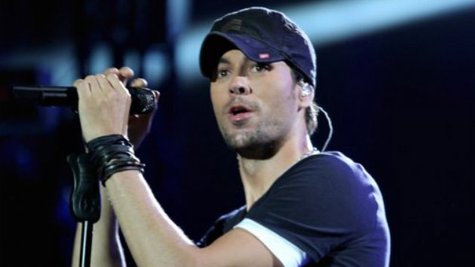 Enrique Iglesias ' latest video "Finally Found You," featuring rapper Sammy Adams , has debuted on VEVO and it's not entirely safe for work.
In the clip, Sammy drops the F-bomb, and fans not only get a glimpse Enrique's ripped abs, but also a brief flash of his bare booty. Not that Enrique's bothered by any of that -- he took took to Twitter to proudly announce, "It's finally here! My new video for #FinallyFoundYou... is live on VEVO!"
In the video , we see Enrique in a series of closeup shots as he sings pensively about his first love. Initially, the singer is shown seated in a darkened room as he flashes back to earlier days playing hide-and-seek with the girl.
Enrique is then shown driving a convertible GTO through deserted nighttime streets. As he sings, "I'm coming to get you, yeah, we had a connection," we see the girl of Enrique's dreams now grown up and getting ready to go out. We next see Enrique arrive at a club, which turns out to be his long-lost love's hangout spot As Enrique enjoys a pour of Atlantico, a brand of rum he's partnered with to promote, he catches a glimpse of her familiar face. Winding through the club past pole-dancers and other patrons, Enrique zeroes in.
Moments after the pair recognize each other, they passionately embrace, bust through the doors of the club to a private area and proceed to kiss and play more grown-up games. But after they hook up back at Enrique's place, the singer seems to love-'em-and-leave-'em, donning his clothes and jacket as if heading to the door while his love interest sleeps.
While the single is out, no word yet on when a new album will be coming from Enrique.
Copyright 2012 ABC News Radio