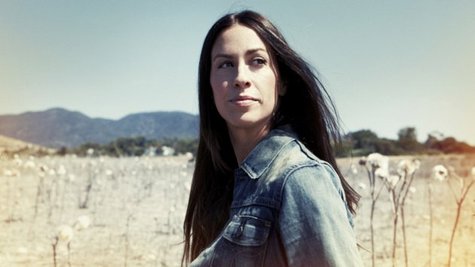 Alanis Morissette is currently out on tour, promoting her new album, Havoc and Bright Lights -- her first in four years, and her first since becoming a mom. Meanwhile, the charts are currently full of female artists who count Alanis as an influence, and she says she's very happy about that.
First and foremost among those women is Katy Perry , who in her 3D movie Part of Me is seen speaking about what Alanis' music meant to her as an up-and-coming songwriter. Then there's Taylor Swift , who's been spotted with Alanis lyrics written on her arm and has spoken of her admiration for the Canadian singer's music. And another Canadian star, Carly Rae Jepsen , told ABC News Radio that she admires the "transformation" Alanis has undergone since she first burst onto the scene in the mid-90s.
Asked how she felt about Katy Perry's shout-out, Alanis tells ABC News Radio, "Oh, it's great. I love her. I have actually had the privilege of hanging out with her a little bit." As for other female artists citing her as an influence, Alanis says it's a welcome departure from the environment in which she started her career.
"When I was releasing Jagged Little Pill in 1995, there wasn't as much of a sense of sisterhood during that time for me," Alanis explains. "It had a lot to do with the fact that I was in this hot heat, and there was a lot of competition amongst...well...I can't even use the word 'sisters' during that time. Right now there's more of a sisterhood, which I appreciate."
And Alanis feels an even closer bond with someone like Carly. "I always love when Canadians are in the public eye 'cause I feel like we have a sister-brotherhood thing going on, cut from the same cloth of some kind," she says, adding that she looks forward to meeting the younger artist one day.
Meanwhile, Alanis' U.S. tour continues through the beginning of November, and then heads overseas to Europe. Asked about the fans who've been coming out to see her on this tour, Alanis laughs that she's "confused" by them.
"My audience is very unpredictable and predictable in the sense there's continuity, there's a thoughtfulness and a warmth -- but I never know what age and what gender," she tells ABC News Radio. "Some audiences I look out and they're all 52-year-old men, and then other audiences, there's 12-year-olds and I'm very confused about who's coming to my show!"
Whoever they are, they're coming to hear Alanis play her new songs, as well as her classic hits, including her biggie, "You Oughta Know." But she's been singing it for 17 years now -- how does she keep it from becoming boring to her? "I use it for my purposes," she laughs. "If I'm angry or if I'm a little edgy or a little PMS-y...I just channel it right into that song, y'know. So it's not always about betrayal and a break-up and devastation. In that sense, it could just be channeling rage."
Copyright 2012 ABC News Radio