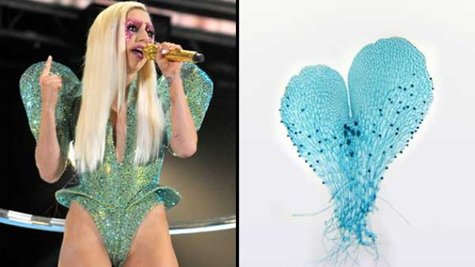 Millions of fans have been inspired by Lady Gaga , and it turns out that among those fans are several botanists. In fact, they've just named over a dozen species of ferns after the superstar singer.
Researchers at Duke University have announced that a new genus of ferns is being named "Gaga" in honor of Mother Monster. A genus is a group of closely-related species -- in all, 19 species of ferns will be dubbed Gaga.
The question is, why? Well, according to the researchers, the ferns in this genus have "fluid definitions of gender" -- just like their namesake -- and one of them even looks like the green sequined costume that Gaga wore to perform at the 2010 Grammys. In addition, researchers swear that some of the ferns in the genus have a DNA sequence that spells out "G-A-G-A."
Two of the species in the Gaga genus are new, so they've been given specific Gaga-centric names. One is called Gaga germanotta -- because "Germanotta" is her last name -- and one is called Gaga monstraparva, which literally means "monster-little."
Duke University biology professor Kathleen Pryer said in a statement, "We wanted to name this genus for Lady Gaga because of her fervent defense of equality and individual expression."
Copyright 2012 aBC News Radio