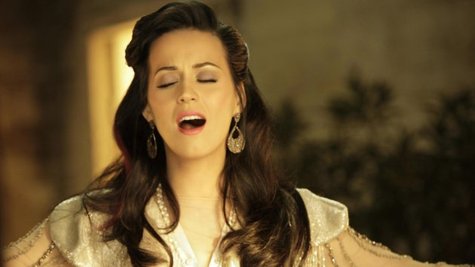 Katy Perry threw a birthday party this past weekend, though her actual birthday is Thursday. Don't start shopping for gifts, though -- Katy's already picked out what she wants.
On Twitter, Katy wrote , "Transcendental meditation changed my life. For my birthday I would love to pay it forward. In lieu of gifts, donate." She then provided a link to the David Lynch Foundation , which has a huge splash page wishing Katy a happy birthday. The goal of the foundation, founded by director David Lynch , is to bring Transcendental Meditation, or TM, to at-risk adults and children worldwide who suffer from post-traumatic stress.
On the page, Katy writes, "I have been meditating for two years now, and it's the best thing I have ever done to help bring more creativity, positive energy and peace to my life. When I'm tired, stressed, anxious or depressed, I meditate, and it clears my mind, and makes me feel relaxed and happier. I have shared the meditation experience with my friends, and recommend it to everyone I know."
Katy then goes on to say that she supports the Lynch foundation's work, and adds, "Please help me celebrate my birthday by making a donation to DLF. Your donation is not only special to me, but to all of the people whose lives you will help through the lifelong gift of meditation."
Copyright 2012 ABC News Radio