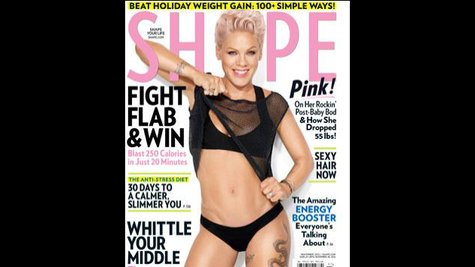 Talk about body after baby -- Pink graces the cover of the new issue of Shape magazine, and the abs she's showing off are so amazing that it's hard to believe she gained 55 pounds during her pregnancy. "To be on the cover, especially now, in my life, is a huge deal," says the singer, whose daughter Willow is now 18 months old. "I didn't know if I would ever be back in shape."
First, Pink tells the magazine how she gained all that weight, explaining, "I ate a lot of cheesecake during my pregnancy. Also anything sour -- Sour Skittles, Sour Patch Kids, key lime pie." But after she started working out with two different trainers, including Jillian Michaels , and cut out the junk food, the weight came off.
Now, Pink says her three go-to healthy foods are couscous, broccoli and salmon, and she avoids her favorite carb-loaded treats, like bread, pasta and pizza. As for her workout, the singer says she swears by one particular exercise. "I can do cardio, circuits and circuit training all day long but when my trainer makes me do sprints, it's like nothing else."
Pink also opens up about motherhood, saying she's surprised that, as she says, "I can do it, [and do it] well." She adds, "I think when you have a tumultuous relationship with your own mom, I think as a female, especially, you're scared. Like 'Are we gonna fight from the time she comes out of my belly?' But we're in love," gushes Pink. "I'm smitten."
Now that she's in shape, Pink is going to start tour rehearsals in January and hit the road in February. "I am going to top my last tour, whether I have to wrap myself in Velcro and set myself on fire," she jokes. "It's my job as a performer to keep raising the bar."
Read more about Pink and her get-in-shape tips in the November issue of Shape magazine.
Copyright 2012 ABC News Radio