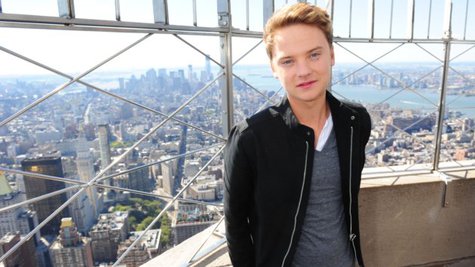 Rising British pop star Conor Maynard -- best known for his single "Vegas Girl" -- was on top of the world on Monday...well, on top of Manhattan, anyway.
After making his U.S. television debut Tuesday on NBC's Today show, Conor traveled to the Empire State Building with a busload of fanatical fans, who call themselves "Mayniacs." Then, he took the elevator up to the very top floor where he met the press.
Looking out over the city below him, Conor told ABC News Radio the view was "insane," adding, "I think the view is very inspiring. I feel like writing a song about the tops of buildings now...it's crazy. It's really cool to be up here."
Conor, who hails from the Brighton area of England, already had a huge following on YouTube with his covers of popular songs, when Ne-Yo noticed him and brought him to the attention of the music industry. He'll release his debut album Contrast in early January, and has been working hard on it with collaborators like Pharrell Williams , Stargate , Kevin Rudolf and, of course, Ne-Yo, who appears on Conor's new single, "Turn Around." But all that hard work hasn't left Conor much time to be a tourist in the U.S.
"I never actually thought I'd be able to get a chance to come up here," he told ABC News Radio at the Empire State Building. "'Cause every time I come to New York it's for work and it's always busy. So, the fact that I've been able to come up here is amazing."
Also amazing to Conor is the fact that he actually has quite a few fans in the U.S. already. "I think every time I come here, there's new fans I get to meet," he says. "It's amazing to see the progress each time I come back and I think, for me, you know, as long as people in all different countries enjoy my music, then I'm happy. So, yeah, it's really cool to see that."
Copyright 2012 ABC News Radio